Freak Dance Shows
Freak dance show is more a modern theater which actors stand apart with their crazy hairstyles, bright makeup, weird costumes, extravagant and often uncomfortable shoes, outrageous behavior and mannered gestures. These highly expressive characters became favorite guests at all fashion shows, promotions and club parties, and now they've started to conquer the field of private parties. If you want to organize really unique guests' meeting, or fabulous and unusual performance, than freaks are exactly what you are looking for.
Following the pink of fashion, the Art Goa Entertainment is glad to present you its team of striking, vivid and extravagant freak dancers that will give a gift of their presence and vary any party. Unforgettable and shocking freak-characters, extravagant look, strange and odd movements and a huge variety of sexy and "brave" costumes will make you and your guests remember their freak dance show forever!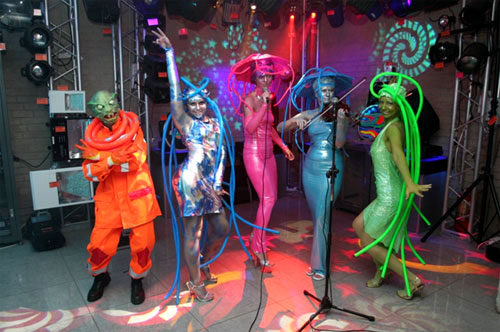 To make any event, any entertainment or any party more amazing, fantastical and memorable you can choose the following types of FREAK DANCE SHOWS in Goa we can provide you with:
WHITE SHOW (show of heroes and inhabitants of unknown White Planet);
THE VISITORS dance show (space-theme show with aliens, guests from the Future, spacemen, UFOs, strange objects and phosphorescent creatures);
THE GOLDEN ARMY dance show;
THE NEON SPECTRUM (Led light freak dance show);
THROUGH THE LOOKING-GLASS (freak dance show based on "Through The Looking-Glass And What Alice Found There" novel);
THE SILVER GIRLS dance show
HALLOWEN STORIES (freak dance show with creatures of the night: vampires, demons, witches, ghosts and other characters of Halloween holiday)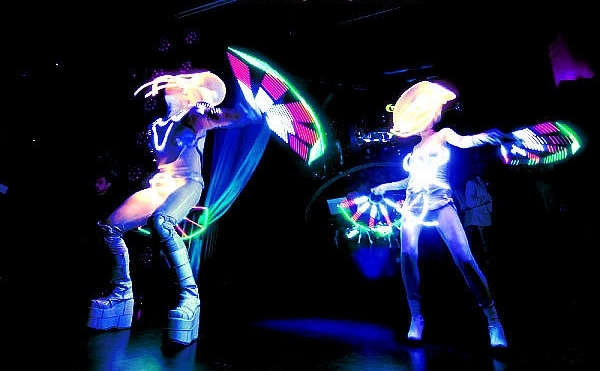 No matter what freak dance show you choose for your special day, we guarantee you that your party will turn into a holiday of unreal and fantastical characters, and will stick into your memory till the end of times!
If you need any help in choosing the most appropriate show program especially for your event, please call us and we will provide you the whole detailed information on each of freak dance shows in Goa that we can only organize for you.