Strolling Tables
Strolling tables is a modern, new fashioned solution for any type of event whether it's a birthday or wedding celebration, or the new good presentation, or a corporate party. This service will be perfect for both guests' meeting and guests' experience. The elegance and gracefulness of living human tables will decorate any party charming and gladdening the eye of even the most sophisticated audience.
Usually strolling tables are beautiful and professional models, actresses or hostesses dressed up into the appropriate costume and standing in the center of a table-type dress. Living human tables usually move smoothly around the room endowing guests with a charming smile and offering them to try drinks and snacks suited to every fancy from their table-type dresses. Anyone can come up to the strolling table lady and not only feast himself from her table but also talk to the girl while waiting for the party's main part beginning. Strolling table ladies can tell you about the dishes and drinks that are served on their table-dresses, about the event or party format and simply create a pleasant relaxed atmosphere.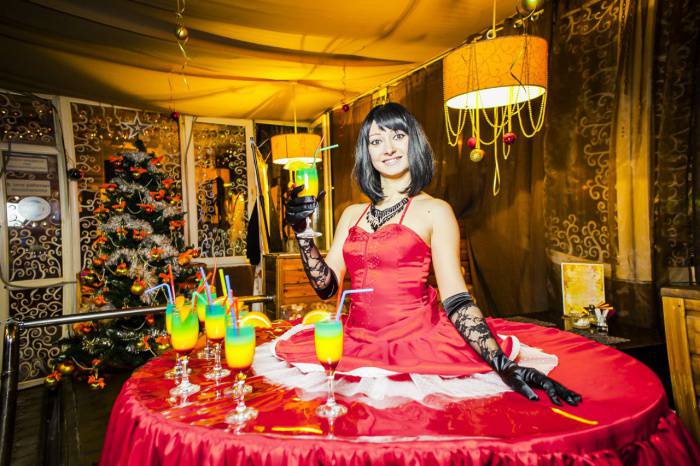 The Art Goa Entertainment is glad to offer you its strolling tables for hire in Goa which, no doubts, will vary and well savored your special event with unusual service type. By inviting our professional strolling table actresses and models you will make your party bright, exceptional and even exclusive as the strolling table appearance will absolutely attract everyone's attention turning a holiday into a magical event.
WHAT CAN BE THERE ON A STROLLING TABLE?
Drinks and beverages;
Snacks and canapés;
Fruits, cookies and sweets;
Gifts and small souvenirs;
Some promo leaflets and flyers (if presentation of a good)
Our living human tables for hire in Goa can be booked for any event. Presently we can offer you the following STROLLING TABLES PACKAGES:
Birthday party strolling table;
Wedding strolling table;
Corporate party strolling table;
Strolling tables for kids parties;
Strolling tables for promotions and presentations;
Theme strolling tables;
Cake-type strolling table

Technical Specifications
Table sizes: 1200 x 900
The portable strolling tables need a room to dress up (the wight of doors should be at least 1200mm).
The tables are designed mostly for smooth floors; otherwise they should be positioned onto one place if the surface is uneven.
The tables require a catering person for stocking the table, managing the stock during the show or party, and for taking away any used items.
We have plenty more ideas of strolling tables for your event. Just call us to learn more about what we can provide you with for your special day!