Indian wedding in Goa

The ceremony of Indian wedding in Goa is a perfect choice for those who dream to find themselves in a true Indian fairytale. Any Indian wedding is a rave of colors and fun, as people in India knows better than anyone else how to enjoy this life! Choosing the Indian wedding be ready for surprises: national colorful dresses and walk on elephants, tropical picturesque sceneries you've never seen before and, of course, fantastical wedding photo session in the most exotic places of Goa!
HOW AN INDIAN WEDDING IN GOA GOES?
The wedding ceremony will take place on the beach or in some other picturesque place (on client's choice). Elegant Indian wedding outfits will be carefully picked up according to the bride's and groom' sizes. At the wedding day our professional wedding coordinator will help the bride to put on the Saris properly and beautifully, while our hairstylist will help the bride with her wedding hairdress, and our henna artist will make a traditional mehendi.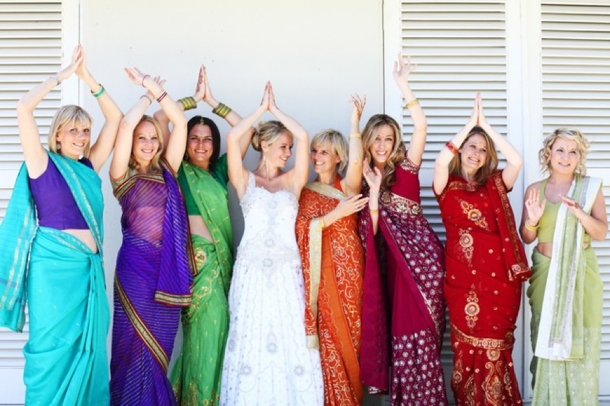 At the Indian wedding in Goa ceremony site you will be met by our Coordinator who will guide you to the beautifully decorated Indian wedding arch and explain the rules and the process of the ceremony. The Hindu priest will conduct the ceremony singing ancient blessing mantras in Sanskrit. The ceremony includes the obligatory rituals of circumvention of the sacred fire, the exchange between the bride and the groom their wedding flower garlands, sweets treating as a sign of a happy marriage and, of course, the ritual of putting the sacred wedding necklace (Mangalasutra) on the bride's neck. The whole ceremony will be translated into your mother tongue by our Coordinator or by professional translator (in required). The corresponding Indian music and mantras blessing will be heard throughout the ceremony, while a variety of Indian sweets will be offered to the guests. After the ceremony the bride and the groom will be taken for exotic and unique wedding photo session to the most beautiful places in Goa.
RULES OF INDIAN WEDDING IN GOA ORGANIZATION
To organize the Indian wedding in Goa you don't need to follow all Indian traditional rules. It will be sufficient to use the basic Indian wedding style in the room design, in clothes and in some traditional Indian dishes. Modern Indian weddings usually involve different traditions, so feel free to enter your own additions into your Indian wedding. However, there are several rules for Indian wedding in Goa conducting we recommend you to follow.
RULE 1: Presents. It will be a good idea to buy small souvenirs or some little presents made in Indian style for your guests. These may be figures of elephants, golden Buddha figurines, bracelets with stones, bright earrings, spice sets or other theme presents. And don't forget to add a little note of thanks from your couple to each gift.
RULE 2. Decorations. Indian wedding style implies luxury items: a lot of gold and purple colors, plenty of different fresh flowers and expensive fabrics. There are huge variety of options how to decorate the wedding ceremony site: it can be a wedding under traditional Indian tents, or a wedding in a restaurant decorated in a "Peacock" style, or a wedding on the beach near the sacred fire in traditional Indian clothing.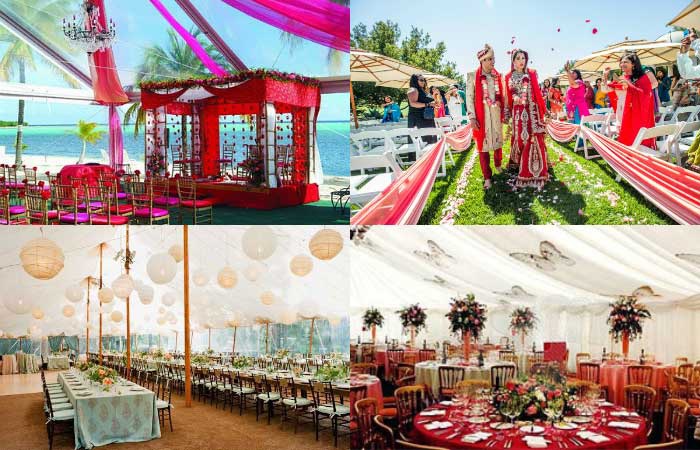 RULE 3. Wedding outfit. Neither Indian wedding in Goa can be conducted without traditional wedding costumes and accessories. You can book everything required for the ceremony, or bring them with you – that's upon your decision. But don't forget that every Indian suit must be bright and colorful, rich and elegant and the same time. And, of course, be ready to have magnificent mehendi on your arms as this attribute is obligatory for any Indian wedding.
OUR INDIAN WEDDING IN GOA PACKAGES
We are always happy to help you in making your every wish come true. Presently we have several Indian wedding in Goa packages which you may like, but it doesn't mean that you can't enter some changes and/or additions into them. So, feel free to share your ideas with us. Until then, we offer you to take a look at the following packages we have developed for you
Package "Silver Indian wedding": the wedding ceremony in Indian traditions is conducted on the beach or in a hotel under self-colorful tent by Hindu pandit.
Package "Golden Indian wedding": the wedding will be held on a beach, in a restaurant, in a hotel or somewhere in a picturesque place (f.e. in the national park, in front of waterfall, near Hindu temples, etc.) by Hindu pandit according to the ancient Indian wedding traditions.
Package "Diamond Indian Wedding": the wedding ceremony will be conducted in front of an ancient Indian temple, in a luxury hotel or on the beach next to the sacred fire according to old Indian wedding traditions. The ceremony will be held by a Hindu pandit.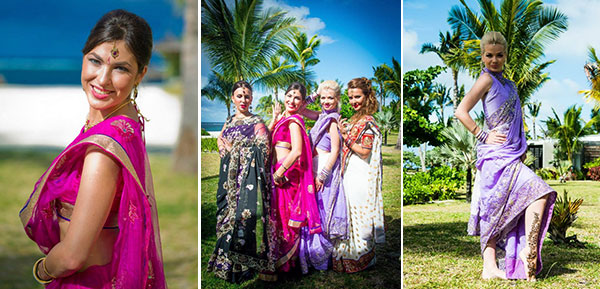 If you have any questions or you want to book one of the above given Indian wedding in Goa packages, please feel free to contact us any time. We're here to make your special day even more unique, magical and unforgettable.